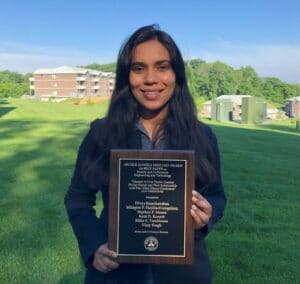 The article titled "Changes in Corn Protein Content During Storage and Their Relationship with Dry Grind Ethanol Production" has been selected for the 2019 ADM award for "Best paper in Protein and Co-Products, Engineering/Technology". The paper was co-authored by Leaf's application scientist, Dr. Divya Ramchandran, along with Dr. Mila P. Hojilla-Evangelista from the National Center for Agricultural Utilization Research, USDA Agricultural Research Service and Prof. Stephen P. Moose, Prof. Kent D. Rausch, Prof. Mike E. Tumbleson and Prof. Vijay Singh from University of Illinois. The article was published in the Journal of the American Oil Chemists' Society, the leading source for technical papers related to the fats and oils industries, in May 2018.
The prestigious Archer Daniels Midland Award for Best Paper in Protein and Co-Products recognizes outstanding papers that report original research in Chemistry/Nutrition and Engineering/Technology fields of protein and co-products, published in AOCS Press publications over the past year. The award consists of a plaque for the main author and certificates for all contributing authors.
Divya Ramchandran, application specialist at Leaf's Green Lab, received the 2019 ADM award for "Best paper in Protein and Co-Products, Engineering/Technology".
The significance of the work is that this is one of the first studies that demonstrates the effect of various corn grain storage conditions (refrigerated and ambient) on ethanol yields. Physiological changes in corn during storage influences dry grind process and impacts ethanol yields. This study evaluated one such factor, i.e., changes in the various protein fractions in corn grain such as albumin, globulin, prolamin and glutelin during storage and their impact on ethanol yields. The main findings were that ethanol yields were significantly impacted by storage time but not by storage temperatures (-7 to 23°C) used in this study and ethanol yields at 24 h of fermentation are affected by changes in glutelin and prolamin levels during storage. Variation in ethanol yields can cause significant losses in dry grind ethanol plants, and information from this study can be used to implement process changes to avoid such losses.
Reference :
Ramchandran, D., Hojilla-Evangelista, M.P., Moose, S.P., Rausch, K.D., Tumbleson, M.E., Singh, V. 2018. Changes in Corn Protein Content During Storage and Their Relationship with Dry Grind Ethanol Production. J AM OIL CHEM SOC.  95(8):923-932. https://doi.org/10.1002/aocs.12070
More information about 2018-2019 AOCS awards