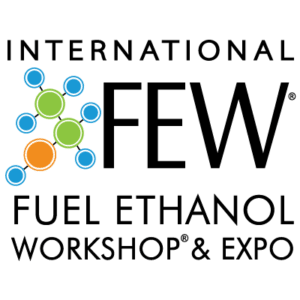 We are proud to sponsor and attend the 38th Fuel Ethanol Workshop (FEW 2022) in Minneapolis, MN, from June 13th through 15th!
Each year, the FEW provides the global ethanol industry with cutting-edge content and unparalleled networking opportunities. The on-site event is the opportunity to exchange on biofuels trends, opportunities, technical aspects and innovations.
This year, we are proud to see two of our colleagues and team members present at FEW!
On June 14th at 1:30pm, Crysta Greenleaf, our Technical Service Representative will speak about the Role of Micronutrition in Maintaining Stable Operation of a Modern Biorefinery
On June 15th at 8:30 am, Massimo Merighi, Lesaffre Head of Metabolic Engineering and Synthetic Biology will present CP² – Comprehensive Coupled Product and Process: the Solution of Leaf for Ethanol Producers
We encourage you to attend both presentations, and to come see us at booth #1315!
More information on FEW 2022: https://few.bbiconferences.com/ema/DisplayPage.aspx?pageId=Home
Location
Minneapolis Convention Center, 1301 2nd Ave S Minneapolis, Minnesota 55403, Minneapolis
Location Details
Phone: +1 612-335-6000
Schedule

Guests

Attendance

Forecast

Comments
Weather data is currently not available for this location
Weather Report
Today stec_replace_today_date
stec_replace_current_summary_text
stec_replace_current_temp °stec_replace_current_temp_units
Wind stec_replace_current_wind stec_replace_current_wind_units stec_replace_current_wind_direction
Humidity stec_replace_current_humidity %
Feels like stec_replace_current_feels_like °stec_replace_current_temp_units
Powered by openweathermap.org