In the heart of Cedar Rapids, Iowa, where Lesaffre holds its Industrial Pilot Plant, the Green Lab was established in December 2017. Since then, we have been carrying out lab scale fermentation trials, driving optimization efforts in propagation and fermentation to improve yield and productivity, and studying stress factors affecting fermentation, with the ambition of supporting our partners and our clients.
A bridge between customer service and R&D
The Green Lab was created to support both our business and customer-oriented activities. Each year, over a thousand fermentation trials, quality control and analytical activities are run by the Green Lab team for our clients' and business' needs.
We conduct fermentation and application trials to answer our clients' demand, to overcome their challenges, and to seek for improvement potentials. Samples are sent to the Green Lab for diverse reasons, from troubleshooting to fermentation optimization. One of the other aspects of the Green Lab's technical support is to identify nutritional limitations and other stressors affecting ethanol yield.
In addition to answering and trying to anticipate our clients' needs, the Green Lab also supports our R&D division by testing samples sent in during product development. This is a crucial step to ascertain the efficacy of the product under different conditions encountered in plants, and to make sure a product is as efficient as can be on various substrates.
State-of-the-art equipment and a team of experts
The Green Lab team comprises Divya Ramchandran, Leaf's Application Scientist and Molly Sproston, Research Associate, under the guidance of Shekar Govindaswamy, Leaf's Technical Director. The team uses a suite of advanced analytical tools, such as HPLC, IC, ICP-OES, GC-MS and lab scale fermentors. Recent equipment additions to the Green Lab have enabled us to scale-down ethanol plant and to provide faster and more accurate responses to our customers.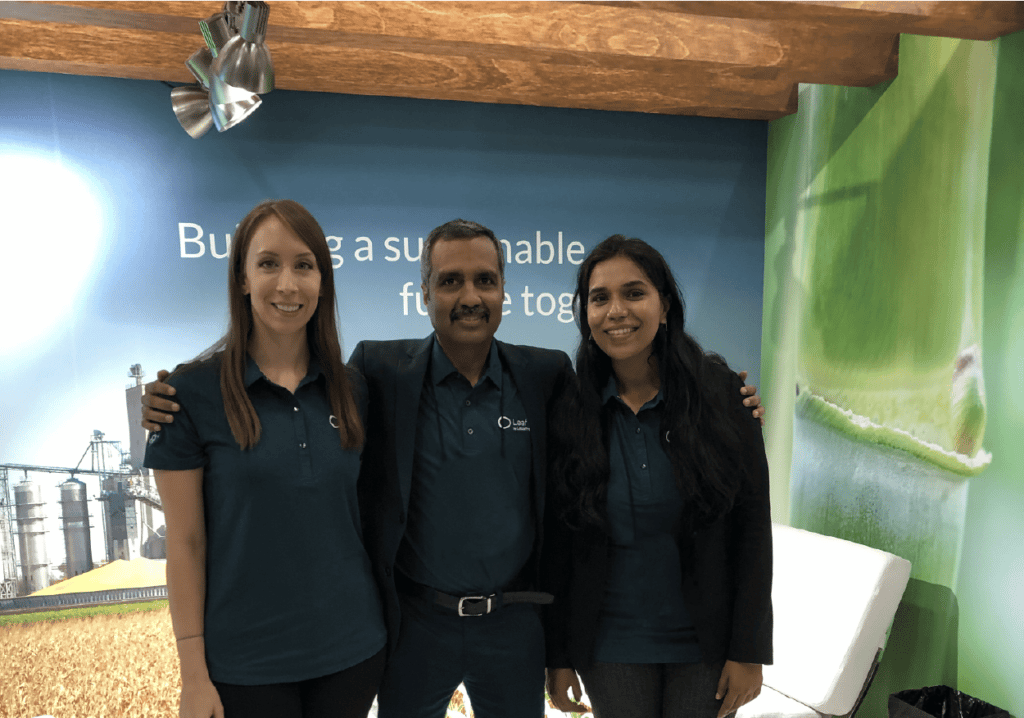 From left to right: Molly Sproston, Shekar Govindaswamy and Divya Ramchandran
The Green Lab is but one facet of a global whole, that comprises Leaf. Our highly knowledgeable sales and technical teams play a critical role by liaising between the Green Lab and customers. The U.S. technical team proactively engages in the Green Lab, facilitating the real-time incorporation of the voice of our customers into our experimental work.