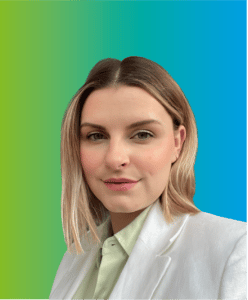 It gives us great pleasure to welcome on board Chloé Marteel, who joined Leaf in September 2021 as Leaf's Communication Officer!
With a Master's Degree in Digital and Business Communication, Chloé has built her experience in global and digital communication and press relations through several past positions.
In her role at Leaf, Chloé leads the global external and internal communication of Leaf. Her efforts include copywriting, digital presence and press relations management, and support in event organization.
Discover Chloé, Communication Officer for Leaf, in this portrait
Chloe: "Positive attracts positive. I am a strong believer in the law of attraction. This means that positive thoughts and a positiv outlook on life bring positive results into life. Daily, I try to see both challenges instead of obstacles, and opportunities instead of discomfort! In both my professional and personal lives, living by this motto has been a success so far."
Can you briefly explain your work position?
"As Communication Officer for Leaf, I am in charge of developing Leaf's internal and external communication strategy. This includes content production, digital presence management, event involvement and press relations."
What would you like to bring to the team?
"I hope to bring a fresh eye to the team in order to continuously improve our communications efforts. In the long run, I also hope my expertise in digital communications will allow Leaf's notoriety to grow through its online presence!"
What is your favorite song? 
"Any song from Queen really! But if I had to pick one, it would have to be Love of my Life: such a sweet melody."
What do you like most about teamwork?
"Teamwork allows me to constantly learn from others on various topics: I would say that my knowledge was 30% learned from school and 70% from learning from others (colleagues, friends, family). And I love the energy teamwork brings me! My colleagues' motivation is always nurturing my own."