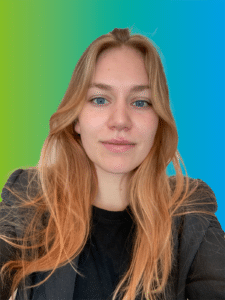 We are extremely grateful to welcome Maud Lescroart as part of our team. Maud joined in September 2022 as Leaf's Technical Sales Manager for Europe, Middle East, and Africa.
Through her position at Leaf, Maud will nurture our existing and future partnerships by providing our peers with technical support and ensuring best-in-class industrial performances. In her role, Maud will represent Leaf through technical publications, digital channels, and on-site industry events.
With her Master's Degree in Agro-Food Engineering & Process Engineering, Maud gathered extensive experience in Production Engineering through her past experiences.
Learn more about Maud, Technical Sales Manager for Leaf, in her portrait
Why did you choose to join Leaf?
Maud: "I was impressed by Leaf's expertise in fermentation, which made me candidate for the job. This position seemed perfect for my natural curiosity and interest in the field. By getting to know Leaf's team more, I discovered an inspiring mindset, a true vision, and values I share."
When you were a child, what was your dream job?
"When I was a child, I wanted to be a massage therapist because my dad had back trouble."
What do you like most about teamwork?
"I like sharing and discussing challenges with my coworkers. Other than satisfying my own curiosity, I think it's an excellent way to get a fresh point of view."
What do you most like about your position?
"Over meeting new people and working on exciting projects, I get to see a lot of different processes and to learn about their particularities."
"A field of beetroot of course !"